What Our Clients Are Saying
"TryLife opened a door for me that I never knew could be opened." | Maribella's Story
"My name is Maribella. I'm 17 years old, and would like to tell you a little bit of my story. About 18 months ago my world seemed so large. But when I learned I was pregnant with my daughter Bella, my world suddenly seemed to get smaller and smaller, just including my parents, grandparents and my baby's father. My previous life seemed to be gone. Yet, what I soon learned was that this new life was going to be much better than I expected.
"TryLife Center opened a door for me that I never knew could be opened. As only God could plan it, 40 years ago my beloved grandfather, a pediatrician, helped a sick child on Christmas Day. The mother of that child was a staff member at TryLife Center, and that wonderful person helped me through my pregnancy. The greatest benefit I received – which takes into account all TryLife helped me learn and accomplish – was the reminder that the Lord blessed me with a miracle. My family is very close, but the staff at TryLife became part of my family, as well. They helped us all deal with my pregnancy…the emotions, thoughts, questions, expectations and just the newness of something so significant.
"I've learned how to manage my new life, and make a plan so that all my goals can still be accomplished. I was an A student in high school, and am now an A student in cyber school. I was also very athletic, and now I just incorporate my baby in my exercise plans. My faith, most importantly, has grown. I've seen firsthand how a life of faith is also a life of love, hope and compassion, so I volunteer to help others who are in the same situation that I was, and show them how to manage the circumstances for the best. I could not have done this without a few things: my trust in the Lord, the support of my parents and heartwarming experiences at TryLife, having had my eyes opened to life and reality.
"Soon, I'll be entering a four-year program to become a registered nurse. I plan to focus on pediatric nursing like my mother, incorporating youth counseling like my father, and then aspire to be like my grandfather – who lived a life for the Lord and for his greatest gift, his children.
"I'd like to share with young mothers like myself, that they've been given a unique gift – one for themselves and for the whole world. A baby that can one day be all he or she aspires to be. Just believe, stay on track and surround yourself with good people. Things will change, but they can just as easily change for the best. My baby is healthy, and I'm fortunate to have the generational help of my family so that I can stay on track and stay "sane." I have two brothers, and they've had my back from the beginning; they even have diapers in hand whenever I'm studying!
"My last thought to mothers, and of course to fathers is that you have the choice to be the best you can be. Know and remember that it takes time and a village to raise a child. It takes faith, hope and love that the Lord bestows on us so freely. When you're a frightened young mother or father, it helps to know that your Shepherd is there to protect you, and He will lead you. All you have to do is ignore the static that's a part of everyday life, and focus on the Lord's Words.
"Although I'm Bella's mommy, she's also part of the TryLife family, because while anyone can make a baby, they've helped me make the best for my baby."
Make Room for Daddy! | Bertrand's Story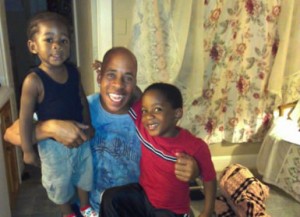 Bertrand is a single father of two boys, Bertrand, Jr., age 5 and Zion, age 2. Their mother left when Zion was a little baby, and Bertrand never expected to be raising two little boys on his own. Zion has sickle cell anemia, which is very hard on him and, of course, hard on Bertrand, too. "Sometimes I just don't know what to do. I work as a school bus driver part-time so that I can be home with my boys most of the time."
He took the boys out to play one day and realized he was in a tough spot, not sure he had the knowledge or power to help his sons be the men they need to be. He started to cry and Bertrand Jr. put his arms around his father's and said, "It's OK, Daddy." He decided then and there that they were a team and were going to get through it together.
Suddenly he remembered that when Bertrand Jr. was a little baby, he and their mother went to the TryLife Center, where they got help with a car seat, crib, stroller, formula and diapers. This time we offered him counseling and education, as well as help with clothes for the boys, cereal, juice, food, and what the boys like most – toys!
Yet TryLife helped Bertrand with more than food and clothing for the boys.
"The ladies who work there – I call them saints, because they give me moral, psychological and spiritual support. The counselors who work there are teaching me how to be a good father and mother. I'm not a church-going man, but I feel like TryLife is my Tabernacle, because of the light and joy I feel when I go there. Now I'm not only surviving as a parent, but I'm personally doing well."
"The ladies who work there – I call them saints, because they gave me moral, psychological and spiritual support." Bertrand, single father