Welcome, Clients!
On this page you will find current client information, class/group schedules, current events, and more!
If you are not a client, no worries! Click the button below to learn more about our program. If you are eligible and interested, you can make your first appointment on here or by calling 724.339.9399.
Announcements
Reminder: One-on-one appointments (in-person or virtual) cannot be made online! Please call us if you would like to schedule a one-on-one appointment with Erica, Jeannie, or Maddie.
April 2023 Shop Sales & Specials
Sales
5 pairs of socks free per child
5 pairs of shoes free per child
50% off NEW Cribettes
BOGO Diapers sizes 1 and 2
Specials
Monthly Special Video (50 points)
Monthly Survey (5 points)
Monthly Drawing – Enter once per visit this month for a chance to win a mug, some gourmet coffee, and a $50 Visa gift card!
Forms & Documents
Client Information & Agreement
Locations, Directions, and Hours
Main Location
Address: 1155 Wildlife Lodge Road | Lower Burrell, PA
Directions: We are located next to to the plaza with Community Market, on the section of Wildlife Lodge road between Leechburg Road and Route 56. If you need further directions, please give us a call at 724-339-9399!
Hours: Monday & Wednesday 12:00pm-4:00pm, Tuesday & Thursday 12:00pm-8:00pm
New Kensington Location
Address: Salvation Army New Kensington | 255 3rd Street | New Kensington, PA
Directions: We are located inside the Salvation Army (the old Fort Crawford Elementary School building). This building is located at the bend of Route 56, right off 3rd Street. To access the parking lot, you will need to take the alley that connects 3rd Street and Rt. 56. The TryLife Center entrance is at the back doors that can be accessed from the parking lot. Please refer to the image below for a better understanding of where to park and enter the building.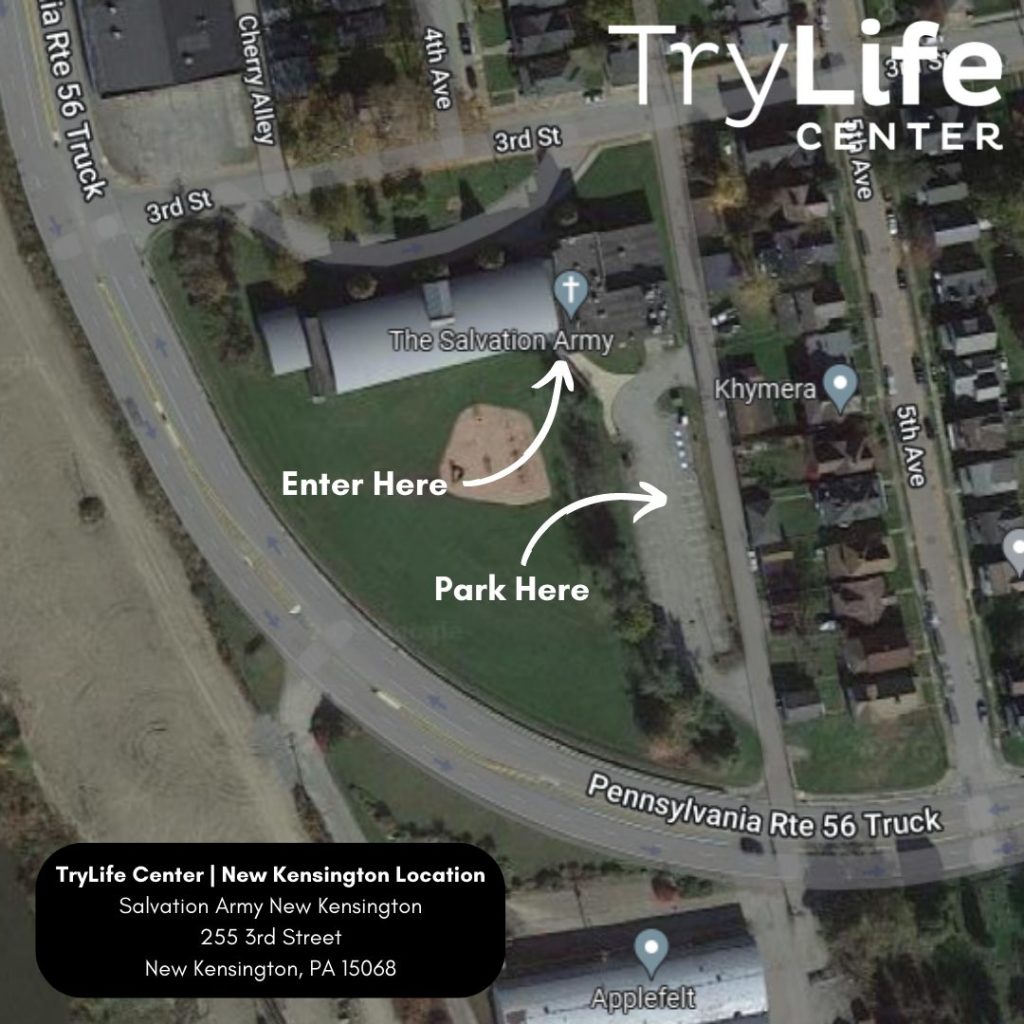 Hours: Monday-Thursday 10:00am-12:00pm
Appointments required at this location, per Salvation Army policy. At your appointment time, a staff member will meet you at the doors to let you in.