Volunteers Are Essential!
We would not be able to operate if it weren't for our volunteers! We have volunteer opportunities in all departments, with many commitment levels, and for people with all kinds of different skills and talents. Below you can see our volunteer opportunities and requirements.
Ready to volunteer? Click the button below to apply today!
General Volunteer Qualifications/Requirements:
Ability and willingness to demonstrate personal commitment to the mission, values, and beliefs of TryLife Center in the execution of any position responsibilities
Ability to respect confidentiality
Ability to complete required trainings (if applicable)
Additional qualifications may apply and are listed per position (qualifications and requirements are subject to change)
Volunteer Positions
Building Maintenance Team
We need volunteers throughout the year to help us with the upkeep of our building (generally on an as needed basis) or with special projects. Email director@trylife.center for more information or apply here.
Additional Qualifications:
Must be at least 18 years old.
Childcare Assistant
Our Childcare Assistant volunteers supervise children in the play area (Lois' Cottage) while parents shop, speak with a counselor, or participate in educational activities. It is such a blessing to parents when they can have a few moments to themselves at the Center to focus on their goals, and kids LOVE our play area! Email clientservices@trylife.center for more information or apply here.
Additional Qualifications:
Childcare or babysitting experience
Must be at least 18 years or older OR 15 years with references, clearances, and a work permit
Current clearances required
Client Assistant
Our client assistants are absolutely vital to the operation of our Family Program. Client assistants are trained to help clients select and complete educational videos, shop in our store, and provide clients with a warm, supportive experience at the Center. Email clientservices@trylife.center for more information or apply here.
Additional Qualifications:
Must be at least 18 years or older
Current clearances required
Proficient computer skills preferred (you'll be trained either way!) and willingness to be trained on different types of software
A sincere desire to interact with our clients and their families with unconditional love, acceptance, support, and understanding
Available to volunteer for a 3 to 4 hour shift during client hours weekly or biweekly
Church or Community Partner
Is your church or other organization looking for a local, faith-based nonprofit to support or partner with? We would love to speak with you about how we can support you, how you can support us, and how we can work together to better our community! Check out some of our suggested group volunteer activities. Email director@trylife.center with ideas or for more information.
Development Assistant
We welcome volunteers with demonstrated grant writing, fundraising, and/or event planning experience to help us meet our development goals. Email director@trylife.center for more information or apply here.
Drivers
We need dedicated volunteers to 1.) drive our Mobile Medical Unit (days/hours vary) and 2.) assist as needed with pick up and/or drop off of donations and other supplies from the Westmoreland County Food Bank, Sam's Club, churches, the Western PA Diaper Bank, etc. Email director@trylife.center for more information or apply here.
Additional Qualifications:
Must be 21 years or older
Hold a valid PA driver's license and clean driving record
Available during Mobile Unit and/or office hours, or as needed
In-Kind Donations Assistant
A position for those who love to organize! We are incredibly blessed by the many donations that come through our infamous red door from the community. Our in-kind donations assistants help to sort, clean, and count/track all donations that we receive before they are made available to our clients. You may be asked to help keep the store area tidy and organized. Email clientservices@trylife.center for more information or apply here.
Additional Qualifications:
May need to lift heavy items
Available to volunteer during Red Door donation hours
Marketing, Social Media, & Community Relations Volunteers
Are you a social media or marketing guru, or do you possess the unique gift of connecting a community to a cause? We welcome volunteers with relevant experience to help us expand our impact! Email marketing@trylife.center for more information or apply here.
Medical Volunteers
We are hoping to create a pool of qualified medical professionals (specifically registered nurses and sonographers) to volunteer their time and talents to the TLC Clinic and Mobile Medical Unit. Our clinic/medical unit provides free services including limited OB ultrasounds, pregnancy testing, STI testing, and HIV/Hep C screening. Email director@trylife.center for more information or apply here.
Additional Requirements:
Must be 21 years or older
Hold a valid PA driver's license and clean driving record
Current clearances
Proof of medical certification/license, as applicable
Available during Mobile Unit and/or clinic office hours
Office/Admin Assistant
Our office/admin assistant volunteers bless the Center by completing various clerical and administrative tasks such as coordinating our Baby Bottle Campaigns, assisting with mailings, helping with data entry, etc. Email director@trylife.center for more information or apply here.
Additional Qualifications:
Available to volunteer during office hours, usually as needed
Prayer Team
Prayer is the #1 way you can help. We believe that prayer is essential to everything we do here at TryLife Center, and we are always blessed and encouraged when we are supported in prayer. If you are interested in becoming a member of our Prayer Team, email director@trylife.center and we will email you monthly prayer requests for the Center.
Other
If you have a talent to share that is not listed, reach out and let us know how you want to help. We may not always be able to immediately accommodate, but we love new ideas! We also welcome groups, and will work with you to organize an appropriate project. Email director@trylife.center for more information.
Apply Now!
Ready to volunteer? Click the button below to apply! Remember, you can apply for multiple positions or opportunities, or let us know what other skills and talents you can bring to the table!
Contact us:
1155 Wildlife Lodge Road
Lower Burrell, PA 15068
24 Hour Helpline/ Phone: 724.339.9399
Fax: 724.334.2329
Email: info@trylife.center
Office Hours:
Monday – Thursday
9:00a – 4:00p
Friday – Closed
Red Door Donation Hours:
Monday & Wednesday
10:00a – 4:00p
Tuesday & Thursday 10:0am – 7:00p
No Donations Received on Friday, Saturday or Sunday
We couldn't do it with YOU!
Your support provides us with enhanced reliability, efficiency, and planning in our use of resources as we work to empower women and families.  In 2021, we completed 1,121 client visits! Thank you for your support!
Financial Donations
Your financial contribution enables us to provide free and ongoing support and resources to families in our community. If you would like to make a fiscal donation, you can do so online by clicking the button below.
We also accept fiscal donations by mail or in person. If you would like more information or to speak about your financial donations, please call the financial office at 724-339-9399 ext. 105 or finance@trylife.center.
Material Donations
TryLife Center gets so many items daily from generous individuals and families. If you have something to donate, please drop it off at the red door in the middle of the building anytime during our donation hours.
Donation Hours
Monday and Wednesday 10am – 4pm
Tuesday and Thursday 10am – 7pm
We are closed Friday-Sunday. Please do not drop items outside the door outside our donation hours. Those items could be destroyed by weather, stolen, etc. 
What Items Can I Donate?
We accept any new or gently used items for parents and babies. Baby items should be appropriate for children up to 3 years old. Some common items include:
Diapers or Pull-Ups/Training Pants (new, unopened)
Baby Wipes (new, unopened)
Formula or other food items (new, unopened)
Baby food, Pedialyte, etc. (new, unopened)
Baby and kids clothing up to size 4T
Baby and kids shampoos, soaps, etc.
Baby and kids furniture items: changing tables, bassinets, Pack N Plays, Cribs (must be NEW), baby baths, jumpers, walkers, exersaucers, etc.
Toys (appropriate for 3 or under)
Feminine hygiene products (pads, tampons, disposable underwear/diapers, soaps, shampoo, etc.)
Breastfeeding Supplies (breast pumps, nipple butter, breast pads, etc.)
Some common items we CANNOT accept include:
Adult Clothing (we only accept maternity clothing)
Used or opened food items
USED Car Seats or Booster Seats*
USED Cribs*
Large furniture items such as couches, dressers, etc. (we only accept baby or kid-specific furniture)
Please call ahead if you are unsure that we accept certain items. It costs us money to dispose of items we cannot accept, which is money better spent on our clients' needs. Thank you for your generosity!
*As per our insurance policy, we are not allowed to give away used Car Seats or Cribs to anyone. Please take those items elsewhere so they can be used by someone in need! Give us a call at 724-339-9399 if you would like a list of referrals to other organizations that may accept those items.
Other Ways You Can Help
Participate in a fundraiser or upcoming event.
Tell your friends about us.
Become a monthly financial supporter.
Pray for our center, clients, and staff.
Read our latest Annual Report to learn more about our impact:
Click here to download.
What Our Clients Are Saying
"TryLife opened a door for me that I never knew could be opened." | Maribella's Story
"My name is Maribella. I'm 17 years old, and would like to tell you a little bit of my story. About 18 months ago my world seemed so large. But when I learned I was pregnant with my daughter Bella, my world suddenly seemed to get smaller and smaller, just including my parents, grandparents and my baby's father. My previous life seemed to be gone. Yet, what I soon learned was that this new life was going to be much better than I expected.
"TryLife Center opened a door for me that I never knew could be opened. As only God could plan it, 40 years ago my beloved grandfather, a pediatrician, helped a sick child on Christmas Day. The mother of that child was a staff member at TryLife Center, and that wonderful person helped me through my pregnancy. The greatest benefit I received – which takes into account all TryLife helped me learn and accomplish – was the reminder that the Lord blessed me with a miracle. My family is very close, but the staff at TryLife became part of my family, as well. They helped us all deal with my pregnancy…the emotions, thoughts, questions, expectations and just the newness of something so significant.
"I've learned how to manage my new life, and make a plan so that all my goals can still be accomplished. I was an A student in high school, and am now an A student in cyber school. I was also very athletic, and now I just incorporate my baby in my exercise plans. My faith, most importantly, has grown. I've seen firsthand how a life of faith is also a life of love, hope and compassion, so I volunteer to help others who are in the same situation that I was, and show them how to manage the circumstances for the best. I could not have done this without a few things: my trust in the Lord, the support of my parents and heartwarming experiences at TryLife, having had my eyes opened to life and reality.
"Soon, I'll be entering a four-year program to become a registered nurse. I plan to focus on pediatric nursing like my mother, incorporating youth counseling like my father, and then aspire to be like my grandfather – who lived a life for the Lord and for his greatest gift, his children.
"I'd like to share with young mothers like myself, that they've been given a unique gift – one for themselves and for the whole world. A baby that can one day be all he or she aspires to be. Just believe, stay on track and surround yourself with good people. Things will change, but they can just as easily change for the best. My baby is healthy, and I'm fortunate to have the generational help of my family so that I can stay on track and stay "sane." I have two brothers, and they've had my back from the beginning; they even have diapers in hand whenever I'm studying!
"My last thought to mothers, and of course to fathers is that you have the choice to be the best you can be. Know and remember that it takes time and a village to raise a child. It takes faith, hope and love that the Lord bestows on us so freely. When you're a frightened young mother or father, it helps to know that your Shepherd is there to protect you, and He will lead you. All you have to do is ignore the static that's a part of everyday life, and focus on the Lord's Words.
"Although I'm Bella's mommy, she's also part of the TryLife family, because while anyone can make a baby, they've helped me make the best for my baby."
Make Room for Daddy! | Bertrand's Story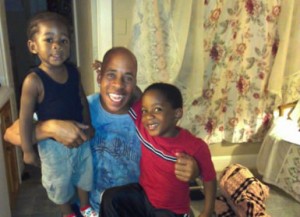 Bertrand is a single father of two boys, Bertrand, Jr., age 5 and Zion, age 2. Their mother left when Zion was a little baby, and Bertrand never expected to be raising two little boys on his own. Zion has sickle cell anemia, which is very hard on him and, of course, hard on Bertrand, too. "Sometimes I just don't know what to do. I work as a school bus driver part-time so that I can be home with my boys most of the time."
He took the boys out to play one day and realized he was in a tough spot, not sure he had the knowledge or power to help his sons be the men they need to be. He started to cry and Bertrand Jr. put his arms around his father's and said, "It's OK, Daddy." He decided then and there that they were a team and were going to get through it together.
Suddenly he remembered that when Bertrand Jr. was a little baby, he and their mother went to the TryLife Center, where they got help with a car seat, crib, stroller, formula and diapers. This time we offered him counseling and education, as well as help with clothes for the boys, cereal, juice, food, and what the boys like most – toys!
Yet TryLife helped Bertrand with more than food and clothing for the boys.
"The ladies who work there – I call them saints, because they give me moral, psychological and spiritual support. The counselors who work there are teaching me how to be a good father and mother. I'm not a church-going man, but I feel like TryLife is my Tabernacle, because of the light and joy I feel when I go there. Now I'm not only surviving as a parent, but I'm personally doing well."
"The ladies who work there – I call them saints, because they gave me moral, psychological and spiritual support." Bertrand, single father
E-Newsletter
We've gone digital!
Did you know that it costs a large piece of TryLife's budget every time we print and mail our paper newsletter? In an effort to direct more funds to our clients and their needs, we are launching an E-Newsletter this summer. Emailing our newsletter will cost us approximately 10% of what the paper newsletters did, saving us thousands of dollars!
Please click the button below to sign up for our E-Newsletter with just your name and email address.
If you have any questions before doing so, feel free to call us at 724-339-9399.
As always, TryLife Center respects your right to privacy and will never share or sell your information.
Past Newsletters
Staff
Amber Blair, MSW, LSW, MT-BC
Executive Director
Maddie Crytzer
Director of Client Services | Director of Marketing
Amy McIlwain
Office Manager
Alyssa Pater
Fiscal Manager
Claudette Washington
Donations Coordinator | Medical Assistant
Jeannie Dennis
Counselor
Erica Kemp
Counselor
Linda Tamarella
Program Assistant
Board of Directors
Cynthia Sakala
President
Michael Korns
Vice President
Patricia Ziringer
Secretary
Joseph Schmidt
Treasurer
Rebecca Moyes
Quandra Nickols
Samuel Robb
Advisory Board
Dr. Robert Beasley
Medical Director
James Bendel, Honorary Ph.D.
St. Vincent College: Director of Planned Giving
Lindsay Berdell Bock
Trib Total Media: Executive Director, Marketing
Allan Lundberg
Attorney at Law
Mary Ann Miller
Mary Ann Miller Communications, LLC: President
Michael J. Myers
Michael Myers, CPA
Christopher Smith
Executive Coach
Volunteers
TryLife Center is a volunteer driven organization, and we are incredibly blessed by the generosity of our faithful volunteers who provide more than $40,000 annually in free services.  If you have time or talents to share, we would love to have you join our family! Click here to learn more about volunteering, or apply now!
Helping Families Succeed
TryLife Center is a faith-based, nonprofit pregnancy and family resource center. We dedicate ourselves to promoting the life of the unborn child and ensuring the well-being of their parents and families. Our goal is to help families succeed.
Humble Beginnings
TryLife Center began in 1997 as Tri-City Life Center with a small office in New Kensington. We started by supporting young pregnant women who were facing unplanned pregnancies.  Our staff helped them work through issues such as unsupportive partners, pressure from family members, and uncertainty about the future.
A few years ago, we updated our name to TryLife Center to better reflect our life-affirming mission. TryLife Center is now located in Lower Burrell, and our geographic service area includes the entire Alle-Kiski Valley area. We serve clients from Allegheny, Armstrong, Butler, and Westmoreland Counties.
Serving Families in Our Community
We believe that a community's most precious asset is the health of its families.  Our comprehensive programs offer a variety of tools to help both moms and dads learn to be positive parents who make informed and healthy choices for their families.
We offer support to our clients during each phase of pregnancy and provide assistance from birth until a child is three years of age. Our "Parent & Baby" program offers free and ongoing education, counseling, material assistance, community referrals, and more.
Our in-house clinic provides STD/STI testing, HIV/Hep C screening, pregnancy testing, and limited OB ultrasounds.  These services are free and open to anyone in the community. You might see our mobile medical unit in a neighborhood near you!
TryLife Center is accredited through the Pennsylvania Association of Nonprofit Organizations (PANO). We are also affiliated with Heartbeat International and Real Alternatives.
Click here to download our most recent annual report.
Join Our Team!
We have several part-time positions open!  We are in urgent need of a nurse and are also hiring a receptionist and grant writer.
Nurse (RN)
Under the direction of the Executive and Medical Directors, the Nurse assists with the oversight of the daily operations of the TLC Clinic and Mobile Medical Unit, as well as the provision of patient care.
Qualifications:
Able and willing to demonstrate personal commitment to the mission, values, and beliefs of TryLife Center in the execution of any position responsibilities
Registered Nurse (RN) in Pennsylvania
Current CPR certification
Current PA Childline, State Police, and FBI fingerprint clearances
Training and experience in Limited Obstetric Ultrasound (preferred)
Prior experience working in a pregnancy center (preferred)
Strong interpersonal, leadership, and administrative skills
Able and willing to drive the Mobile Medical Unit, if needed (preferred)
Schedule:
Part-time or contract, 4-6 hours/week or PRN – we are flexible!
Daytime or evening hours (Monday-Thursday)
Onsite and mobile medical unit, possibility of remote
This position may have room for growth as we work to expand our clinic
Responsibilities:
Provide and monitor patient care in the TLC Clinic and Mobile Medical Unit
Perform and/or oversee performance of pregnancy tests, sonography, STI testing, and HIV/Hep. C screening
Educate patients about options and refer patients as needed to outside resources
Annually review medical policies and procedures and assist with updating as needed
Assist as needed with supervising and evaluating medical volunteers and personnel
Occasional assistance with community outreach related to the expansion of the Clinic and Mobile Medical Unit services
If interested in this position, please submit your resume and a cover letter that includes hourly rate requirements to director@trylife.center
Receptionist
The receptionist is the first person visitors see and interact with, and is often the first point of contact for anyone who reaches the Center by phone or in person.
Qualifications:
Able and willing to demonstrate personal commitment to the mission, values, and beliefs of TryLife Center in the execution of any position responsibilities
High School Diploma or GED
Reception or customer service experience (preferred)
Personable, friendly, adaptable, and organized
Proficient computer skills; Microsoft Office and/or Google G Suite proficiency (preferred)
Current PA Childline, State Police and FBI Fingerprint Clearances; completed Mandated Reporter training (all required prior to start date; not required to apply!)
Schedule:
Part time, 16 or 24 hours/week
Monday and Wednesday 12:00-4:00 p.m., Tuesday and Thursday 12:00-8:00 p.m.
We prefer candidates available to work all listed hours, but will consider a candidate available to work 12:00-4:00 p.m. Monday-Thursday
Onsite
Responsibilities:
Front Desk

Greet and create a welcoming environment for all visitors and designate them to the appropriate person or area
Answer the phone and accurately transfer calls
Monitor main Center email account; reply or forward as necessary
Have a working knowledge of the center, its programs, and its staff
Ensure all policies and procedures are carried out. These include: visitors, volunteers, clients signing in upon entry and exit, and confidentiality

Assist Director of Client Services

Maintain paperwork/filing systems such as client files, clearances, contact information for staff/volunteers, etc. according to protocol
Assist with the Real Alternatives program
Help execute special events, mailings, marketing materials, etc. as needed

Miscellaneous

Attend staff meetings
Help maintain order in the department (all of the downstairs: living room, reception area, hallways, client rooms, classrooms, shopping area, and donation area as necessary)
Assist with other administrative tasks as needed throughout the Center
If interested in the Receptionist position, please email your resume and a cover letter that includes preferred hours and hourly rate requirements to clientservices@trylife.center
Grant Writer
TryLife Center is seeking an experienced grant writer to help increase grant revenue to expand client programs and services.
Qualifications:
Able and willing to demonstrate personal commitment to the mission, values, and beliefs of TryLife Center in the execution of any position responsibilities
Experience with researching and writing funding requests to foundations, corporations, government agencies, etc. that demonstrates success in securing funding
Experience working within the local foundation community preferred
Excellent storyteller
Able to establish project timelines and meet deadlines
Schedule:
Part-time or contract (PRN), varied hours
Remote position
Responsibilities:
Collaborate with the Executive Director to grow grant revenue by identifying grant opportunities for existing programs and researching funding opportunities for potential new programs
Work with the Executive Director, Fiscal Manager, and Program Directors to gather information necessary to craft grant proposals and budgets, and to complete outcome reports.
Ensure the grant proposal narrative tells compelling stories about TryLife Center's programs and impact; Ensure the budget is consistent with the narrative.
Coordinate with the Executive Director to ensure proposals and reports adhere to funder requirements. Identify and communicate potential challenges or risks associated with proposals or reports.
Ensure high quality work; carefully proofread and edit all work for accuracy, completeness and clarity.
Work with the Executive Director to ensure all grant applications and outcome reports are submitted by the deadline(s).
If interested in this position, please email your resume to director@trylife.center. Please ensure your email or cover letter includes information about at least one of your successful grant writing outcomes and your expected rate of compensation.
Volunteer
We are so blessed by the many volunteers who donate their time and talents to TryLife Center.
Our volunteers assist with client visits, sorting donations, building maintenance, planning special events and fundraising, and more on a weekly, biweekly, monthly, or an as-needed basis.
If you'd like to learn more about opportunities to help, contact clientservices@trylife.center or click here to see a full list of volunteer opportunities.
Ready to volunteer now? Click the button below!
Parent & Baby Program
This program provides free and ongoing support to families. Parents who are expecting or who are the biological or legal parent of a child under three are eligible to participate.
Education
Through video streaming and other resources, clients choose from hundreds of topics to learn about. Many courses are built on evidence-based research, and health-related courses provide medically accurate information.
Topics include:
Pregnancy/Birth
Infant and child health/safety/milestones
Parenting and Coparenting
Building healthy relationships
Budgeting and managing financial emergencies
Facts about abortion
Facts about adoption
We offer group classes on topics such as navigating pregnancy, financial health, and positive parenting.  We also have a pregnancy and parenting library.
Counseling
Through confidential counseling, we develop supportive relationships with our clients. Our goal is to help clients achieve their definition of wellbeing and success.
We offer support in areas such as:
Family and personal relationships
Goal setting
Parenting
Locating community resources
Pregnancy options
Disclaimer: We do not provide mental health treatment/therapy. Clients who need mental health treatment/therapy are referred to licensed professionals.
Material Assistance
Because having a baby and raising a family is expensive, one in three families struggles with the cost of necessities such as diapers and wipes. It is challenging for these families to afford things like new car seats that meet safety standards. That's where we come in.
Our store offers the following items at no cost to clients:
New cribs and crib mattresses
New car seats
Diapers and wipes
Formula and baby food
New and gently used clothing
Toys and books
Strollers and highchairs
Maternity clothing
Breast pumps and women's sanitary items
And so much more!
Each item in our store has a "points" value. Clients earn "points" that are used to shop in our store area at no cost. Points are earned through participation in educational activities, counseling, support groups, or volunteering. We also have a sale each month.
Emergency Support
We also offer emergency support to families in need. Here are a few examples of how we helped families in crisis:
A couple with an infant in walked four miles to our Center in need of diapers, formula, and baby food. We gave them the needed items and a bus pass to get home safely.
A pregnant woman experiencing homelessness asked if she could sleep in her car in our parking lot. Because the local women's shelter had no room due to overcrowding, our staff took her home for the night. We helped her find housing the next day.
A client and her two children, ages 2 and 8, were living in a tent until their Section 8 housing became available. Once we learned this, we connected her with other community resources. As a result, she obtained funding to get the family into a home.
TLC Clinic
Our clinic and mobile medical unit are open to anyone in the community and provide the following services:
STD/STI Testing
Hepatitis C and HIV Screening
Pregnancy Testing
Limited OB Ultrasounds
Community Resources
Email info@tlcclinic.center