Sonographer
Licensed to do ultrasounds. Part-time position. Flexible work hours and when possible will work around your availability. Estimate 3 hours per week.
Volunteer
We're grateful for the many volunteers who donate their time, talents, and treasures.
The well-trained volunteers at TryLife Center encourage our clients, emotional, spiritual, and practical support, allowing them to share concerns in a confidential setting.
Volunteers assist in sorting donations, stocking inventory, building maintenance, assembling newsletters, planning special events and fundraising, and clerical tasks on a weekly, biweekly, monthly, or an as-needed basis. Click here to see a full list of volunteer opportunities.
If you'd like to learn more about opportunities to help, please contact parentbaby@trylife.center or please complete our application by clicking here.
Contact us:
1155 Wildlife Lodge Road
Lower Burrell, PA 15068
24 Hour Helpline/ Phone: 724.339.9399
Fax: 724.334.2329
Email: info@trylife.center
Office Hours:
Monday – Thursday
9:00a – 4:00p
Friday – Closed
Red Door Donation Hours:
Monday & Wednesday
9:00a – 4:00p
Tuesday & Thursday Noon – 7:00p
Thank You For Partnering With Us
Thank you for standing with us in our mission to provide caring assistance and compassionate support to women and families facing unplanned pregnancies. Your partnership provides us with enhanced reliability, efficiency, and planning in our use of resources. As you can see from our last annual report, we have definitely had an influence on our community!
Program Statistics
| | |
| --- | --- |
| 1,573 | Client visits |
| 4,976 | Diapers, clothing, other items distributed |
| 941 | Education classes attended |
| 235 | Counseling sessions |
| 4,183 | Volunteer Hours |
| $302,449 | In-kind donations value |
Let's Continue Our Efforts!
Use the link below to make a financial donation and continue supporting our work!
Other Ways You Can Help
Volunteer as a client assistant or for another position
Pray for our mission
Donate in-kind items
Coordinate a baby bottle campaign or a diaper drive
Tell others in the community about TryLife Center
Become a monthly financial supporter
If you're interested in knowing more about the success of TryLife Center, read our Annual Report from 2018-2019. We're making an impact in our community thanks to you!
Click here to download.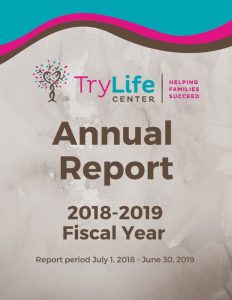 What our Clients are Saying…
Some say that "T-L-C" doesn't stand for "TryLife Center," but rather "Tender Loving Care," because that's what we give everyone who comes through our doors. Here are just a few of the success stories we've helped to create.
Maribella – TryLife helped me open a door I never knew could be opened…
My name is Maribella. I'm 17 years old, and would like to tell you a little bit of my story. About 18 months ago my world seemed so large. But when I learned I was pregnant with my daughter Bella, my world suddenly seemed to get smaller and smaller, just including my parents, grandparents and my baby's father. My previous life seemed to be gone. Yet, what I soon learned was that this new life was going to be much better than I expected.
TryLife Center opened a door for me that I never knew could be opened. As only God could plan it, 40 years ago my beloved grandfather, a pediatrician, helped a sick child on Christmas Day. The mother of that child was a staff member at TryLife Center, and that wonderful person helped me through my pregnancy. The greatest benefit I received – which takes into account all TryLife helped me learn and accomplish – was the reminder that the Lord blessed me with a miracle. My family is very close, but the staff at TryLife became part of my family, as well. They helped us all deal with my pregnancy…the emotions, thoughts, questions, expectations and just the newness of something so significant.
I've learned how to manage my new life, and make a plan so that all my goals can still be accomplished. I was an A student in high school, and am now an A student in cyber school. I was also very athletic, and now I just incorporate my baby in my exercise plans. My faith, most importantly, has grown. I've seen firsthand how a life of faith is also a life of love, hope and compassion, so I volunteer to help others who are in the same situation that I was, and show them how to manage the circumstances for the best. I could not have done this without a few things: my trust in the Lord, the support of my parents and heartwarming experiences at TryLife, having had my eyes opened to life and reality.
Soon, I'll be entering a four-year program to become a registered nurse. I plan to focus on pediatric nursing like my mother, incorporating youth counseling like my father, and then aspire to be like my grandfather – who lived a life for the Lord and for his greatest gift, his children.
I'd like to share with young mothers like myself, that they've been given a unique gift – one for themselves and for the whole world. A baby that can one day be all he or she aspires to be. Just believe, stay on track and surround yourself with good people. Things will change, but they can just as easily change for the best. My baby is healthy, and I'm fortunate to have the generational help of my family so that I can stay on track and stay "sane." I have two brothers, and they've had my back from the beginning; they even have diapers in hand whenever I'm studying!
My last thought to mothers, and of course to fathers is that you have the choice to be the best you can be. Know and remember that it takes time and a village to raise a child. It takes faith, hope and love that the Lord bestows on us so freely. When you're a frightened young mother or father, it helps to know that your Shepherd is there to protect you, and He will lead you. All you have to do is ignore the static that's a part of everyday life, and focus on the Lord's Words.
Although I'm Bella's mommy, she's also part of the TryLife family, because while anyone can make a baby, they've helped me make the best for my baby.
Jamie – It's a wonderful life, but it wasn't always…

Pregnant with her fourth child and in dire financial straits, Jamie set out in a frantic search for a baby crib. In the midst of an ill-fated marriage and needing assistance just to walk due to physical disabilities, she needed support, encouragement and a place for her soon-to-be newborn to sleep. After several unsuccessful attempts to get a crib from other agencies, she arrived at TryLife Center.
"When you're in a bad situation, it's easy for people to disregard you. But at TryLife, I felt a different tone. I could tell they truly accepted me as a human being. What I found there was more than just a crib."
Earlier, Jamie was diagnosed with an inoperable brain tumor, leaving her with vision and mobility problems. Because of the tumor's location, Jamie faced the possibility of congestive heart failure. "People suggested I have an abortion, even close family members. I was very late in my pregnancy, but I don't think I ever really considered abortion as an alternative. I think I was more regretful about bringing children into a bad situation – a situation that I was trapped in."
Jamie gave birth to son Jamison in July , joining siblings Jessica (16), David (8), and Mackenzie (1 ½). Following Jamison's birth, Jamie began private counseling sessions with TryLife's staff counselor.
"She really empowered me as a person to finally see that I was worth something and that I had a purpose. I've always considered myself religious, but not spiritual. When you've gone through so much, you start losing your faith. You start questioning 'Where is God?' and 'Why is He letting this happen to me?' But when I started to make changes in myself and my life, the flood of spirituality came pouring out. At that point, I knew I had made a transformation. After counseling, I learned to re-evaluate myself. My husband called me stupid in my marriage, but I'm not stupid. I'm not a bad person. I wasn't hopeless."
TryLife provided Jamie with many items for her children, but even more importantly, encouraged her to reach for her goals. As a result, she's pursuing a dual degree in mathematics and engineering. "I set a goal for myself to go to college and make the dean's list, which I consistently did at Community College of Allegheny County." Jamie was awarded multiple scholarships, was the keynote speaker at CCAC's spring luncheon and graduated magna cum laude with an associate's degree in engineering. She now has a math degree from Carlow University and an engineering degree from Carnegie Mellon University in Pittsburgh.
"I really emphasized how important it is to have support; having determination is great, but to get you to that next level, you need support and encouragement."
Since Jamie's first visit to TryLife in 2006, her gait has improved, and her medical condition is now stable. Jamie is glad she never let others influence her into having an abortion. "Looking back at it now, all of my children have done well and have flourished; they're all are so wonderful – and so is my life, thanks to TryLife Center."
Bertrand – Make Room for Daddy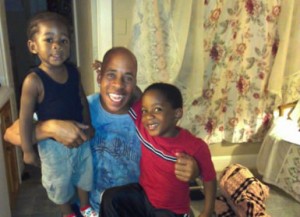 Bertrand is a single father of two boys, Bertrand, Jr., age 5 and Zion, age 2. Their mother left when Zion was a little baby, and Bertrand never expected to be raising two little boys on his own. Zion has sickle cell anemia, which is very hard on him and, of course, hard on Bertrand, too. "Sometimes I just don't know what to do. I work as a school bus driver part-time so that I can be home with my boys most of the time."
He took the boys out to play one day and realized he was in a tough spot, not sure he had the knowledge or power to help his sons be the men they need to be. He started to cry and Bertrand Jr. put his arms around his father's and said, "It's OK, Daddy." He decided then and there that they were a team and were going to get through it together.
Suddenly he remembered that when Bertrand Jr. was a little baby, he and their mother went to the TryLife Center, where they got help with a car seat, crib, stroller, formula and diapers. This time we offered him counseling and education, as well as help with clothes for the boys, cereal, juice, food, and what the boys like most – toys!
Yet TryLife helped Bertrand with more than food and clothing for the boys.
"The ladies who work there – I call them saints, because they give me moral, psychological and spiritual support. The counselors who work there are teaching me how to be a good father and mother. I'm not a church-going man, but I feel like TryLife is my Tabernacle, because of the light and joy I feel when I go there. Now I'm not only surviving as a parent, but I'm personally doing well."
"The ladies who work there – I call them saints, because they gave me moral, psychological and spiritual support." B.C., single father
The event schedule will be updated soon! Keep checking!
Staff, Board, Advisory Board, Volunteers
Board of Directors
Thomas Thimons – President
Michael Korns – Vice President
Patricia Ziringer – Secretary
Cindy Sakala – Treasurer
Rebecca Moyes
Quandra Nickols
Leslie Ortman
Joesph Schmidt
Management
Vera Marelli
Executive Director
Patty Boyer
Parent & Baby Coordinator
Andrea Kavanagh
Office and Fiscal Manager
Peggy Means
Nurse Manager
Staff
Kelly Biertempfel
Jamie Fair
Rachel Crooks
Jeanie Dennis
Ann Restaine
Linda Tamarella
Phyllis Trim
Claudette Washington
Tonya Weaver
Advisory Board
Dr. Robert Beasley
Medical Director
James Bendel, Honorary Ph.D
St. Vincent College, Director of Planned Giving
Lindsay Berdell Bock
Trib Total Media: Executive Director, Marketing
Allan Lundberg
Attorney at Law
Mary Ann Miller
Mary Ann Miller Communications, LLC: President
Michael J. Myers
Michael Myers, CPA
Christopher Smith
Executive Coach
Volunteers
As a volunteer-driven organization, TryLife is very fortunate to have a cadence of 30-40 dedicated volunteers each week. Our volunteers work with parents and perform other tasks to provide more than $40,000 annually in free services. Additionally, our very caring community provides $285,000 of new or gently-used, in-kind donations such as baby clothing, blankets, strollers, diapers, and toys. Whether you have time, talents, or treasures to share, we'd be most grateful to have you join our family. Please contact us if you'd like to be a part of our mission to help families succeed.
Helping Families Succeed
TryLife Center is a faith-based, life-affirming, pregnancy and family resource center. Our team is dedicated to promoting the life of the unborn child, and the physical, emotional, and spiritual well-being of their parents and families. Through confidential counseling, education, and material support, families succeed.
Humble Beginnings
TryLife Center began in 1997 as Tri-City Life Center in a small, second floor office in New Kensington, Westmoreland County, Pennsylvania. From the start we were dedicated to promoting the physical, emotional, and spiritual well-being of young pregnant women facing serious issues that arose from an unplanned pregnancy. These issues included unsupportive fathers, pressures from family members and friends, financial insecurity and poverty, and uncertainty about the ability to parent. Also offered were provided positive alternatives to those considering abortion.
We updated our name from Tri-City Life Center to TryLife Center to better reflect our life-affirming mission. Our geographic service area now includes Lower and Upper Burrell, New Kensington, Arnold, Apollo, Vandergrift, Leechburg, Tarentum, Freeport, and other areas of the Alle-Kiski Valley, as well as Butler, Armstrong, and Allegheny Counties.
Serving Greater Need
Over the years, TryLife's programs have become more comprehensive. We now offer counseling and support during each phase of pregnancy up through the first two years of the child's life, plus services and education for the father. Early on, TryLife helped approximately 50 mothers per year but now provide more than 250 mothers and fathers with thousands of client visits annually.
We offer tools to help young mothers and fathers become positive parents, make well-considered, informed, and healthy choices, and become educated, self-sufficient members of the community. Our team believes that building stronger, healthier families builds a stronger, healthier community for all.
In spring 2018, TryLife Center received its fourth accreditation, presented by the Pennsylvania Association of Nonprofit Organizations (PANO). This Seal of Excellence is awarded to well-managed and responsibly governed non-profit organizations.
Click here to download.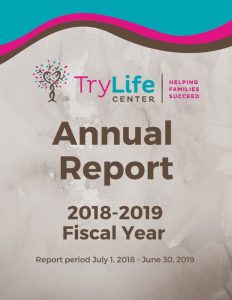 Hold a Baby Bottle Campaign
A Little Change Can Make a Big Difference in the Life of a Baby.
Many churches, organizations and businesses have held Baby Bottle Campaigns to raise funds to support our "Parent & Baby" program.  The participants distribute our specially designed baby bottles and ask their members/patrons to fill the bottles with loose change, cash and checks over a designated few weeks.   After the few weeks, the establishment retrieves the bottles and returns them to the center.  TryLife will calculate all donations and graciously acknowledge the host(s) of the campaign in our newsletter including a total donated amount. TryLife provides all materials for this program.
All funds raised support our "Parent & Baby" program.  Last year, TryLife Center served over 1,400 parents and babies.  Please contact the center to start a Baby Bottle Campaign.
If you are donating to a Baby Bottle Campaign, please follow the Donate link. Make sure to list the name of the Church, organization or business that is holding the campaign.
Organize A Diaper Drive
The average cost of supplies and necessities for the first month of a baby's life is over $900. Until a child is potty-trained, usually between 24-36 months, the cost is nearly $100 a month just for diapers. Without an adequate supply of diapers, children cannot go to childcare and without childcare, parents cannot go to school or work. One-in-3 moms struggle with diaper needs. Since keeping the baby clean and dry is our priority, all of our little ones can receive a monthly allotment of diapers and wipes.
Because there are no government agencies that provide help in this area, TryLife Center supplies nearly 20,000 diapers to our families each year. We are able to do this because of the generous contributions from local churches, clubs, schools, and individuals.
Our ongoing need is for diapers sizes 3, 4, 5, and 6 and wipes to distribute to hundreds of babies each year.
How can you help? Click here to begin planning a diaper-and-wipe drive. You may also contact  info@trylife.center. Thank you for this consideration.